SmartVestor Pro
Erin Eiras, CPFA and President of InVestra has been in the business of Wealth Management for almost two decades and enjoys being an authentic steward of her clients and their loved ones by empowering them to live life like herself: debt-free and independent of ongoing financial hardships. At InVestra, building legacies of generational wealth and charitable giving are both at the heart of the practice. Erin's mission as your SmartVestor Pro is simple and sincere: to be your ally and create an environment where you feel comfortable asking questions and are ready to gain the knowledge you need to move forward in your journey towards creating a life of significance.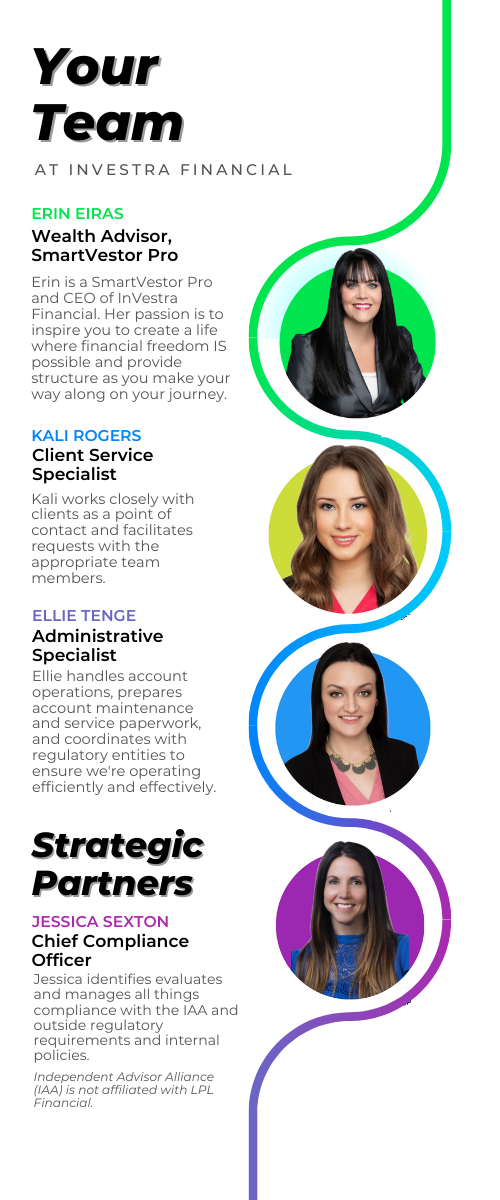 What Sets Us Apart?
At 40 years old with 16 years of experience under her belt, Erin plans to continue being an advocate for her clients and their loved ones for the next 20-25 years and beyond.
As a true believer in Dave Ramsey and his process, we encourage you to ask yourself the following: Does the advisor you are potentially looking to hire utilize a legitimate office space? Do they own or rent said office space? Do they have a mortgage? Here at InVestra Financial Services, we are honored to have a beautiful high-rise office with a terrific view of the St. Johns River here in Jacksonville that is owned with NO Mortgage.
Having an office (rented or bought) to operate out of is considered a basic qualifier for a Wealth Management Professional. Truly being debt-free is a significant differentiator and one more reason why you should hire someone with the heart and soul of a true financial professional who shows proof of living debt-free.