At InVestra, we do whatever it takes to assist you in pursuing your financial goals. This means  maintaining the most up-to-date ways to deliver our services. It's important to us that you know exactly what you pay so there are never any unexplained expenses and you always know what to expect. These costs can either be billed to you or be deducted directly from the accounts we manage.
Below is our fee schedule: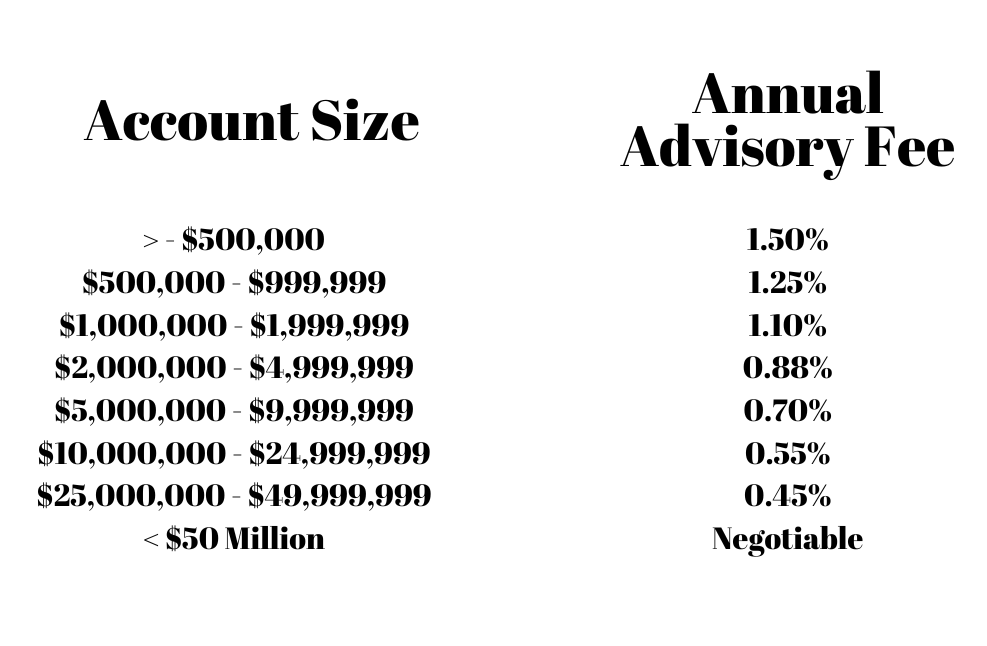 We are available to review your plan and discuss questions; it's our passion to help. There are no extra charges for phone calls, emails, or meetings when you are a client. In addition to our immediate services, this fee covers 24/7 access to your accounts, consistent advice, access to our e-newsletter, client appreciation events, seminars (virtual and in-person), and monthly market updates sent to you via email. We also understand that legacy planning is important and we like to support that effort by offering a complimentary consultation for your child or grandchild.
In some cases, we accept a client engagement on an hourly basis. This may be for a "second opinion", to review an existing plan, or to address a specific issues that do not require a financial plan. We've helped track down old life insurance policies, review retirement plans (401ks, 403bs, etc.), consolidate old stock certificates, value and title/retitle/claim old savings bonds, analyze real estate purchases, and a variety of other services under this type of arrangement. We accept these engagements on a case by case basis depending on our schedule at the time and whether we think can provide the outcome you are seeking. The cost for this is $250 per hour with a minimum of three hours.
If you have any questions about costs, fees, rates, commissions, and/or what you pay, please ask. We believe that any professional that you choose to work with should offer complete transparency, like us.
Let's begin to build a plan for prosperity